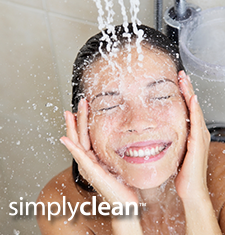 A Stylish Shower for Every Kind of Dirty
Whether you've spent your day doing dirty yard work or behind a desk at the office, the SimplyClean® shower is a trusted shower of choice. No matter how dirty your day becomes, we want to make sure that your shower does what it's supposed to do best – gets you clean. And we take pride in getting even the messiest of days cleaned up with our trusted and stylish line of showers.

A toddler's battle with spaghetti? No problem. Your long day outside in the yard? Absolutely. Or just a lazy day in front of the television? We have that on our cleaning list, too.

Plus, shopping for a shower has gotten far too complicated and confusing. What is a "massage drenching rain spray" anyway? And 42 settings? Who even has time to figure out which one of the 42 you like best?! And "super spinning soaker" technology? Is that just a fancy name for a power spray?

Our job is to make sure that finding the right shower is as easy as possible. SimplyClean® showers are straight-forward with what a shower includes, what features it has, and most importantly, what all of those fancy spray setting names really mean.




Shop For SimplyClean® on Amazon
SimplyClean® Combo Handheld Fixed Showerhead - Allure, Brushed Nickle - 5 Spray Settings


SimplyClean® Handheld Showerhead Fixture - Allure, Brushed Nickle - 5 Spray Settings


SimplyClean® Fixed Showerhead Fixture - Brilliance, Brushed Nickle - 6 Spray Settings